EarthCruiser Attending Overland Expo EAST OCT. 2-4 in Asheville, NC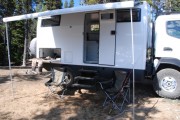 PRESS RELEASE
–
SEP 28, 2015 06:00 PDT
Lance Gillies, CEO EarthCruiser, will be showcasing the FX model featuring a hard-sided fixed roof.
Asheville, North Carolina, September 28, 2015 (Newswire) – The FX model features seat belts in the rear cabin and seating for up to five people. Lance Gillies, EarthCruiser CEO says, "EarthCruiser was designed to take people where no other RV can, places that they only read about in magazines."
Since 2013, EarthCruiser has been designing and manufacturing in beautiful Bend, Oregon. Bend is an outdoor mecca with endless miles of dirt roads, and 300 days of sunshine, making it a great fit for the EarthCruiser lifestyle. "People all over the world are tired of the normal vacation. This is not your typical camper it is a serious self-contained, all-terrain expedition vehicle that has been tested in extreme conditions all over the world," explains Lance.
EarthCruiser FX is our new hard-sided fixed roof, scalable EarthCruiser.  This new model was developed to have a lower entry point and can be 'customized' to provide the features the customer requires.  It is also built using lightweight fiberglass with an interior height of 6'5″ but will only sit 8″ above the height of the cab making it aerodynamic and compact as well as having the EarthCruiser 'look and feel'. The EarthCruiser FX has the same body styling and look and feel of the EarthCruiser EXP.
EarthCruiser Expedition Vehicles
61510 American Ln #140, Bend, OR 97702
(541) 706-9101
Sales@EarthCruiser.com
Find more information
Website  www.earthcruiser.com
Facebook Page https://www.facebook.com/earthcruiser.overlandvehicles
Instagram https://instagram.com/earthcruiser_hq/
Youtube https://www.youtube.com/channel/UCF0UuGWo1XK68wMF7oXdOvw
Twitter- EarthCruiserHQ